International Corporate Coaching (ICC)
Description:
Corporate coaching is more than just listening, sharing and motivating others. It is a skill-based approach to help those being coached ('coachees') gain a deeper awareness of what matters, where they want to progress professionally, and how to get there in the best and fastest possible way.
Increasingly, in addition to dedicated external and internal coaches, senior and mid-level executives within organisations are now required to master this approach and contribute to the development of a corporate coaching culture.
Presented in partnership with Progress-U, a leading executive coaching company, SMU Executive Development (SMU-ExD) offers a comprehensive perspective on practical coaching in Asia, as well as developing the personal skills, integrity, ethical behaviour and intuition needed for effective coaching. 
Overview:
Structure of the Programme 
The International Corporate Coaching (ICC) programme consists of four modules.  Each module comprises the following:
One two-day interactive workshop (max.12 participants per workshop)

* Maximum 30 participants for Module 1a only

Two 90-minute tele-classes
Four 90-minute peer coaching sessions
One book reading assignment
One 120-minute 'deep dive' session into a specific coaching related topic based on latest research provided by SMU-ExD
Two faculty members, both highly experienced executive coaches, are dedicated to all four modules and are available to provide continuous support.
Benefits:
Who Should Attend?
Corporate executives who would like to develop their corporate coaching skills
HR executives and consultants who wish to add corporate coaching to their portfolio of services provided to clients
Individuals who want to start the journey to become internationally certified corporate coaches
Coaches who have not completed enough coach training hours and/or coaching hours to become certified
Participants may wish to complete all four modules or a selection of modules, depending on their current level of coach training and their desired outcome.
Who Should attend:
Why Should You Attend? 
The ICC programme is the most comprehensive and highest level corporate coach development programme in Asia for the following reasons:
It combines the expertise of a regional executive coaching company,Progress-U, with the academic and business knowledge of a highly reputable Asia business school,SMU.
Class sizes are small,with a maximum of 12 participants, allowing for extensive direct interaction with the facilitators.
Designed and developed in Asia, all case studies and role plays are based on real coaching situations in the region while adopting the latest global ideas and approaches.
It is the only coach certification programme in Asia that is both Worldwide Association of Business Coaches (WABC) Level 1 accredited and Approved Coach Specific Training Hours (ACSTH) approved with the International Coach Federation (ICF).  At the end of the programme, participants will receive:
SMU/Progress-U International Corporate Coaching ('ICC') certificate
Registered Corporate Coach ('RCC') certificate with WABC
Participants will also have access to additional resources and support from Progress-U as they advance towards their Associate Certified Coach ('ACC') certification with the ICF.
Programme Structure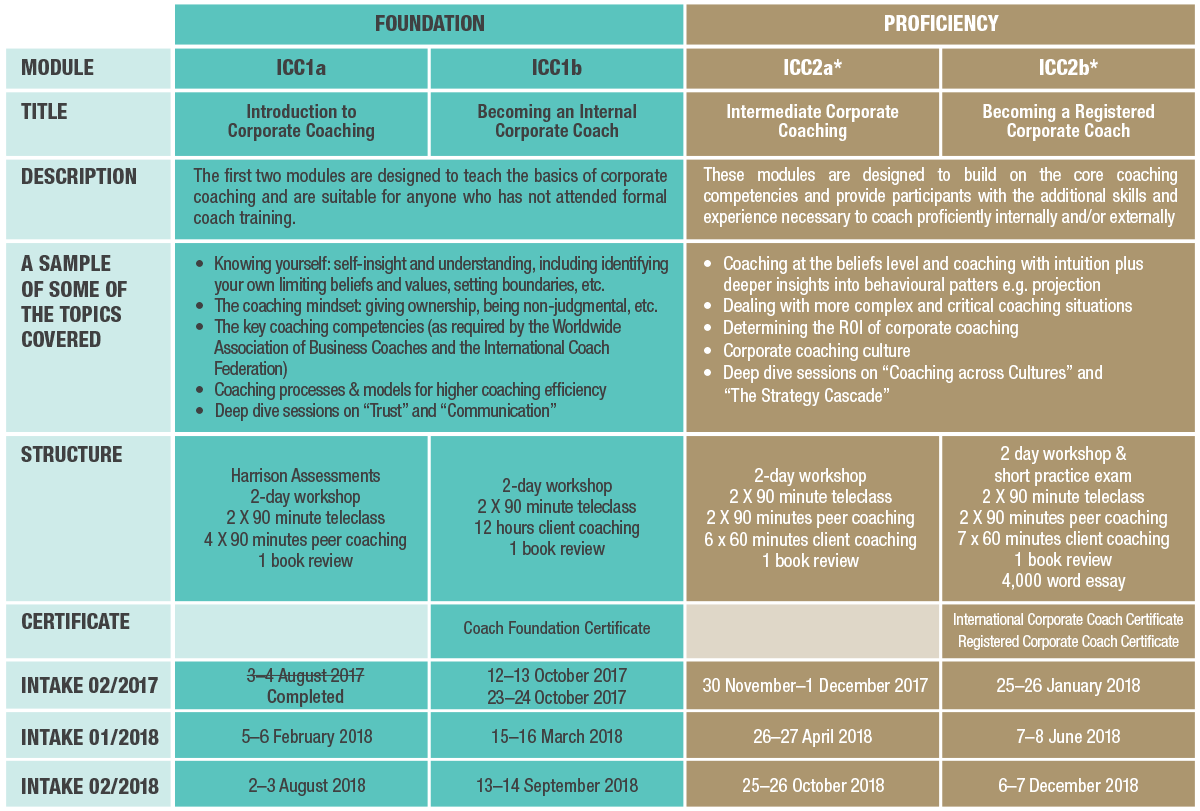 Complimentary Preview Sessions
Join our complimentary preview session (90mins) on 
International Corporate Coaching
 to help you better understand what the programme offers, and more importantly, how it can propel and support your journey towards becoming an internationally certified coach. 
ICC Preview Dates
NOV 2017 - DEC 2017
| | | | | |
| --- | --- | --- | --- | --- |
| Date: | Wed, 1st Nov | Wed, 1st Dec |   |   |
| Time    | 6.00pm-7.00pm | 8.30am-10.00am |   |   |
For more information kindly contact Siti at siti.hinchliffe@progressu.com.
Image / Video / 3rd Party link:
Contact
Cary Chan
SMU Executive Development
PROGRAMME DATES
Date:
12 Oct
to
13 Oct
,
2017
Date:
23 Oct
to
24 Oct
,
2017
Date:
30 Nov
to
1 Dec
,
2017
Date:
25 Jan
to
26 Jan
,
2018
Date:
5 Feb
to
6 Feb
,
2018
Date:
15 Mar
to
16 Mar
,
2018
Date:
26 Apr
to
27 Apr
,
2018
Date:
7 Jun
to
8 Jun
,
2018
Date:
2 Aug
to
3 Aug
,
2018
Date:
13 Sep
to
14 Sep
,
2018
Date:
25 Oct
to
26 Oct
,
2018
Date:
6 Dec
to
7 Dec
,
2018
*Fee is subject to change. GST applies to individuals and Singapore-registered companies.
*SkillsFuture Credit can be used for this programme.
Eligible for Singapore Citizens aged 25 and above.
Fees *: SGD 3,450/ Module (excluding GST)
Venue: Singapore Management University